New regulation on clinical trials
Save this date: "May 2016"
We have being waiting long for this, and the day has finally arrived! There is a new regulation on clinical trials to reduce times, increase transparency and protect patients' rights.
Last December, the Royal Decree 1090/2015 (which replaces RD 223/2004) was approved. It will regulate, among others, clinical trials with drug, ethics committees and the Spanish Clinical Trials Register. It will come into operation next May 2016.
The main objective is to adapt the Spanish legislation to make viable the current and future implementation of Regulation (EU) No. 536/2014 and develop those aspects that the regulation leaves it to national legislation.
It arises from the goal to maintain and increase the competitive position of Spain, as it is currently participating in approximately 18% of all the clinical trials conducted in Europe, most of them are multi-site and many are multinationals.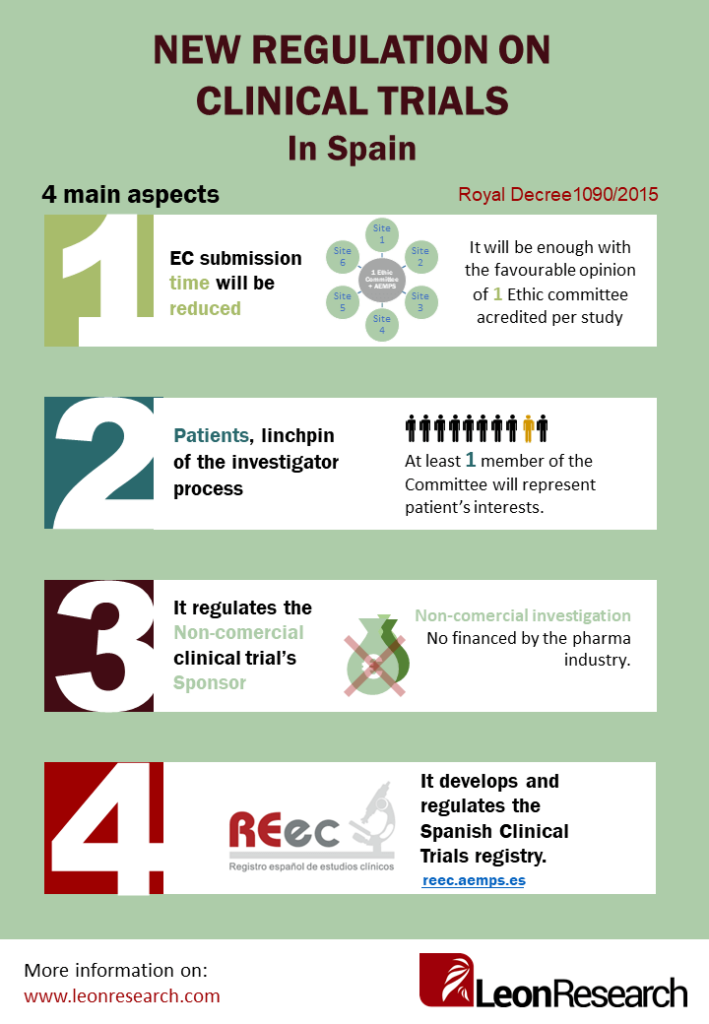 These are the four main aspects of the Royal Decree:
EC submission time will be reduced
Until now, all clinical trials with drugs should have being submitted to as many Ethics Committees as sites were participating in the trial, as well as the AEMPS (Spanish Agency for Medicines and Medical Devices). With the new regulation, the procedures have being simplified and it will be only necessary to submit to one Ethics Committee accredited and obtain the approval from the Competent Authority.
In addition, it will be possible to start the conformity negotiation process (necessary to conduct a trial in each of the sites involved), at the same that the submission process to the Ethic Committee and AEMPS, which will shorten deadlines.
Patients, linchpin of the investigator process
The Ethics Committee shall consist of a minimum of 10 members and it will be mandatory that at least one member of the committee will be who represents the interests of patients. This way, patients will be included to participate in decisions that affect them directly.
Non-commercial clinical trials' Sponsor
The non-commercial clinical trials' sponsor will promote non-commercial research, that is which is not financed by the pharmaceutical industry. The Decree provides certain advantages for this type of non-commercial research such as fee exemption and no need to present the trial insurance until a favorable opinion has been received.
The development and regulation of the REec (Spanish Clinical Trials Registry)
The Spanish Clinical Trials Registry was created to increase transparency. We can consult all the clinical trials authorized in Spain and the sites where they are being conducted. It is developed in Article 47 and It can be found at the following web address: https://reec.aemps.es
Sources:
http://www.aemps.gob.es/informa/notasPrensa/docs/2015/nota-prensa_04-12-2015-Ensayos-clinicos.pdf
https://www.boe.es/boe/dias/2015/12/24/pdfs/BOE-A-2015-14082.pdf